Wed 15 Jul 2020 •
RunTalkRun x Impact Marathons: Global running movements join forces
Impact Marathons and RTR share a common goal: the desire to use the act of running as a means to bring people together to leave some good in the world.
I'm Jess, founder of RunTalkRun ("RTR") and a bit of a fangirl of the huge social impact that these beautiful Impact Marathons are having on the world. I am energised endlessly by the change that is being inspired as a result of bringing people together to leverage the supportive power of running. It is the same energy that propelled me to launch RTR.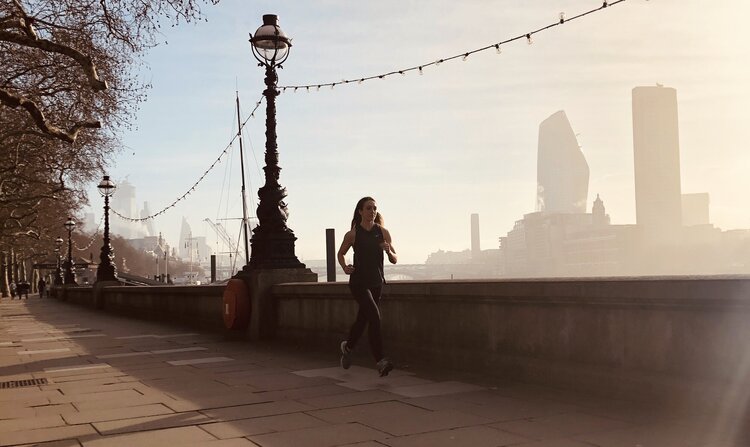 Impact Marathons and RTR share a common goal: the desire to use the act of running as a means to bring people together to leave some good in the world.
I'll give a bit of a lowdown on who we are.
Many non-profits and social enterprises are born from an altruistic leader who has identified a need for a shift in how things are. Be that socially, environmentally, politically, or otherwise. This origin story of RTR, however, is a bit different.
We are a global mental health support community that was ironically a result of my desire to fill my own personal need for an outlet to run and meet people to chat about how heavy I was feeling under the weight of depression.
RunTalkRun started in London but now touches lives all over the UK and the world.
The very first run was just me, but slowly more people began to join. The run was specifically set up to provide a safe and inclusive space for each person to talk about his or her mental health, or to provide a pair of ears so that someone else could talk about theirs.
We started a routine of a gentle 5km every Thursday evening running from Monument Station in central London. A group of people (often just 5-10) would come together at the same place at the same time each week to perform the same route on a run that was neither competitive nor self-annihilating. The group became consistent. This became our routine.
After a year of running this mental health support group, one of our wonderful members enquired about setting up a RTR in Peterborough, and the launching of this acted as a catalyst for other runners around the world to also be inspired to make an impact on their local community and provide a safe space to talk in exactly the same way.
Over the last three years, RTR has grown from just one support group to almost 95 worldwide. All volunteer-led. All 5km. All for any ability of runner. All are a place where we expect you to tell us how crap things are feeling, and know there's a pair of ears open to just listen.
RTR is a space where you do not have to turn up extroverted and smiling if that is not how you are feeling. We don't paint a version of ourselves to make us seem more appealing to other runners. Our weekly runs are a sanctuary of sorts, a place to leave behind social expectations of what "doing okay" should look like and forget any false pretences that we may be holding onto. In essence, we are just a place to "be" with each other.
Starting as just one group, there are now 95 groups worldwide making running and mental health support accessible for anyone.
Creating an impact needn't be a grand gesture, a mass fundraiser or a public display. It can simply be the act of setting aside some time in your week to be a kind pair of ears for someone who needs a safe space to talk. We are all qualified to listen to our peers, whether we understand their experiences or not.
What inspires me the most, is that not only has Impact Marathons chosen to support RTR with the sale of their new merchandise, but they have chosen to indirectly support RTR through... well… supporting ME. Nick Kershaw, its CEO and Founder, has been a mentor to me, a friend, a sounding board, and someone I can quite happily send long voice notes to when the idea of creating change through RTR feels big and overwhelming.
Nick, and Impact Marathons, understand the importance of making a change on a big scale, but also on the more personal and less "seen" levels too. For anyone reading this, I want you to know that whatever change you wish to make in the world, you are so capable. In whatever capacity you want to help humans, the environment, animals, or otherwise, the good that you put out into the world creates ripple effects that are so unseen but so powerful.
Jess' passion, openness and honesty about her own mental health story has inspired the Impact team to share more of our behind-the-scenes journey.
So, thank you Impact Marathons for the obvious support (the sales of your merch will help us put leaders through MHFA), the not-so-visual support, and the ripple effects of inspiration that you put out to the world.
And for anyone who fancies joining a RTR group, you can see if we are running near you here - www.runtalkrun.com
The Impact Shop will be donating 15% of the profits to RTR.
BE AWESOME TEE | Designed in Scotland | Sustainable Cotton | Available Now RUN THE HIMALAYAS | Designed in Scotland | Sustainable Cotton | Available Now